Posts contain affiliate links, see disclosure for more details.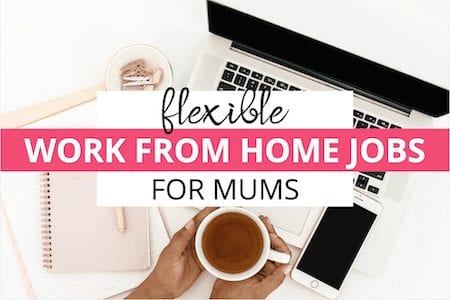 For many parents, finding the right balance between life and work can be tricky. For mums especially, the decision of when and if to return to work can be difficult, with childcare costs and financial pressures weighing both ends of the scales. 
I know for us personally, the cost of childcare for our three young children outweighed the benefits of going back to a traditional workplace. It just wasn't a financially viable option – I'd have basically been working simply to cover (or not even cover) childcare costs.
Working from home, however, is a good way for parents to be able to bring in some income, whilst avoiding hefty childcare payments, so here's a list of some flexible work from home jobs for mums in the UK.

These jobs allow you to work around children's hectic schedules, you can set your own working hours and are just all round more convenient for parents.
These flexible work from home jobs for mums give parents the freedom to work around existing and spontaneous family commitments and school holidays. They can also give more time to spend with children and save both time and money on commuting to and from work.
11 Flexible Work From Home Jobs For Mums
Virtual Assistant
Virtual Assistants (or VAs) are becoming much more commonly used as time goes on. There are so many different services you can offer as a virtual assistant, from researching, writing, data entry, social media management, design and so much more.
It's a great job option for work from home mums, because you can be really flexible regarding when you work as long as you meet the deadline set by the client. You can also choose services to offer that enjoy or are particularly good at.
Some VA work I've done for bloggers has included updating old blog posts and creating Pinterest images.
You might want to create your own website or Facebook page detailing the services you can offer, along with some info about your skills and experience.
You can find work on websites like Upwork, PeoplePerHour and FlexJobs.
Freelance Writer

Freelance writing is a legitimate job that gives people a really flexible way to work from home.
If you have specialist knowledge or expertise in a certain area, or even if you don't but are good at research, you can make money from home as a freelance writer.
I've written freelance articles for an online wedding magazine, and I'm by no means an expert at weddings (I've had just the one myself!), but it's about whether you can write engaging material to the specification given, and it can be interesting to find out more about different things as you write. Of course, if you do have expert knowledge or experience you might be able to charge more for your services.
Plus, the more work you do, the more experience you gain and the more you can add to your portfolio which will enable you to up your rates as you go on.
What you'll need to do before you start:
Decide on a niche – what are you knowledgable about? What do you enjoy writing about? Chances are this is what you'll be best at writing.
Build a portfolio – If you have previous writing samples you can use these, if not you can use writing you've done if you have your own blog- or you can reach out and offer to write a guest post for someone else's blog – this give's you samples to link to when applying for work.
Otherwise, simply pick a couple of topics, sit down and write two or three pieces that show off your writing skills. These will make up your portfolio to show potential clients.
Transcriptionist
If you're looking for a flexible job you can start with no experience, then becoming a transcriptionist may be for you.
It involves listening to audio files and typing out what you hear. You can work on your own time, but you will need quiet, so this might be one for when the kids are at school or sleeping! You'll be paid for completing the projects you're sent, so the faster you become, the more you'll earn for your time.
What you'll need:
A computer and internet connection
Headphones so you can hear clearly
You don't need any previous experience to work as a transcriptionist, but you'll probably need to take an application test to prove your accuracy, typing skills and attention to detail.
Places you can find transcribing work include TranscribeMe and Babbletype.
Bookkeeper
If you're good with numbers, bookkeeping is a great option to earn money from home and a good way to build up your own business.
Put simply, it involves looking after accounts, recording transactions and producing financial statements and reports.
Whilst you will need some specialised training and skills to be a bookkeeper, you don't need any specific experience to be able to get started.
To help with running and managing your freelancing business you can use software for freelancers to help with scheduling, payments and invoicing.
Blogger
As far as work from home jobs for mums go, blogging is a pretty popular choice. Whilst it's certainly not a get-rich-quick scheme, it is a great way to build your own income from home in your own time.
The best thing about blogging is the flexibility. You can work completely on your own schedule.
There are a few different ways to make money blogging.
You can display ads on your site and earn every time someone clicks or views one.
Alternatively (or additionally) you can earn commissions by affiliate marketing – recommending products or services to your readers and earning from any sales or successful referrals.
Writing sponsored content is another great way bloggers make money. This involves writing articles or advertorials for brands and companies to promote them. The more you build up your blog's reach, engagement and followers, the more money you can command from sponsored work.
It does require a small start up cost for a domain and hosting but you can get these very cheaply to start.
What you'll need:
A computer or other device for typing
Internet access
A domain name
Web hosting – (I use Freethought Hosting for mine)
Etsy Seller
If you're crafty or have a product you enjoy making, then becoming an Etsy seller may be a good move.
It involves creating a product, taking good quality pictures that show it as best you can, then uploading it to Etsy with a good product description showcasing what it is. When you make a sale through Etsy, you'll need to post your items to the buyer. Etsy will take a small cut of your sale price.
You might prefer to set up your own website or sales page, but Etsy is a great place to start, as it already has a huge base of potential buyers, already searching for hand made goods.
Tutor
Teaching English online is perfect for parents. You'll need a computer with a webcam and microphone and a good internet connection. With most online teaching companies you're able to state the times you're available to work and work hours that are convenient for you.
There are thousands of people all over the world wanting to learn English, so finding a tutoring gig shouldn't be too difficult if you're a fluent or native English speaker.
If you're fluent in more than one language, it's worth looking for translation work too, as those skills are less common and often highly sought after.
While some companies will require you to have a teaching qualification, others are more flexible and happy to take you on without one. Websites you can find tutoring work on include Cambly, iTalki, English First and VIP Kid.
What you'll need:
A computer with a good webcam and microphone
A good internet connection.
Proofreader
Are you always noticing spelling and grammatical errors? If you have good attention to detail, you could work from home as a proofreader.
As a proofreader you'll be paid to check documents, which could range from online articles, essays, books, or even instruction manuals.
What you'll need:
Some jobs may require you to have a degree, or some level of experience and most will require you to undertake some sort of qualifying test as part of the application process to make sure you have the necessary skills.
A computer or tablet device.
Here's an in-depth guide about getting started as a proofreader from TheWorkAtHomeWife.
Search Engine Evaluator
A Search Engine Evaluator or Google Rater is someone whose job is to evaluate the quality of search engine results. Whilst algorithms work out which results to show, real humans work to make sure that appropriate and high quality results are shown.
You can apply to become a search engine evaluator through Appen. You don't need any specific experience to work for Appen as a rater, but you will be required to undertake training and pass an exam.
They also recruit for other work and one off projects so it's worth signing up to hear about any work available.
Designer
Merch is a platform on Amazon for selling designs to be printed on t-shirts and other merchandise.
What's good about Amazon Merch is that anyone can apply to join and you don't actually handle any physical items.
If you're at all creative, you can try your hand at making some designs. You don't need to use any fancy expensive design programs either, there are plenty of free options available such as Canva.com, or even Paint.
Your designs can be be text only.
Once you've created your design you simple upload it and add a description. You can create designs for T-shirts, sweatshirts,  and even pop sockets.
If a customer chooses to purchase something made with your design, there's nothing more you need to do! All the printing and shipping is handled by Amazon. All that's left for you to do is wait for your royalty payment at the end of the month.
Not every design will take off, so it's worth trying different styles and uploading a lot to see what works well.
What you'll need:
A computer
A little creativity
Childminder
Becoming a childminder is possibly the most obvious choice of work from home jobs for mums, but it isn't as simple as it first sounds.
The ages and number of children you have personally will affect how many other children you are allowed to care for and you will be required to obtain a childminding qualification, which you can usually gain in evening classes at a local college.
You will also need a DBS check and your home will have to be assessed to make sure it's suitable. Anyone living with you will also need a DBS check.
That said, childminding is a job that allows you to earn money at the same time as caring for your own children, so it's a good way to make money from home as a parent.
What you'll need:
A love of children
Childminding qualification
DBS check
A safe home environment
Related Reading:
How To Work From Home With Kids >>
How To Financially Survive Maternity Leave >>
Pin it!