Posts contain affiliate links, see disclosure for more details.
Whether you have one child or ten, it's likely that keeping on top finances becomes that little bit more tricky as your family grows.
I know for us, when we were having our first baby, the sheer cost of things just considered as 'newborn essentials' was staggering let alone thinking about providing for them for the rest of their childhood!
The costs of raising a family are often cited as being crazily high too.
It wouldn't be unreasonable to be put off growing your family by the estimated costs of £229,251 to raise a child from birth to age 21 (quoted from research carried out by the Centre of Economic and Business Research).
Having children has never been more expensive and, with costs such as childcare and education continuing to rise, for many families across the UK this is set to remain a pressure point.
No parent wants their child to go without and given that a significant chunk of a family's income is spent on children, it is important that parents take steps to secure their household's financial future.
Myles Rixx, LV
Wow.
As a parent, it can be hard to juggle trying to save money and trying not to compromise on providing for your children.
It's natural to want them to have all that they need and more,  the best you can give them.
Numbers like the above can make you seriously consider whether having a family is an affordable option at all!
The good news?
It is possible to find ways to keep family living costs low and save money.
Plus, when you make saving money something the whole family is involved with, it helps teach kids values around spending and saving, and hopefully gives them a good foundation for money management as they grow up.
The habit of saving is itself an education. It fosters every virtue, teaches self-denial, cultivates the sense of order, trains to forethought, and so broadens the mind.
T.T Munger
11 Simple Ways To Save Money As A Family
1. Meal planning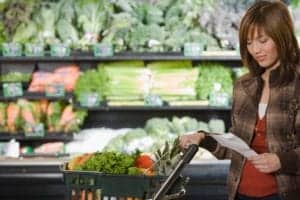 When you're cooking for a family, it can seem like your grocery bill just keeps going up! One of the simplest ways to keep your grocery bill down is by meal planning.
All it involves is taking a few minutes each week before your grocery shop to plan out the meals you're going to have the following week.
First, check your fridge and cupboards to see if there's anything that needs using up. If there is, try and incorporate it into your meal plan.
Write a list of which meals you've decided to have.
Take your list of chosen meals and use it to write the basis of your shopping list.
Meal planning saves money by helping you write a shopping list based on what you need and will use, which helps lower impulse buys, reduce the need for quick top up shops and helps reduce food waste as you shop, buy and cook what you need.
2. Use Supermarket Loyalty Schemes
The supermarket spend is probably one of the most expensive regular family spends.
Take advantage of whatever loyalty scheme your chosen supermarket offers, as this could give you money back, discount vouchers, or offer you rewards in other ways – for example with Tesco Clubcard you can exchange your points for money towards things like restaurant bills or family days out.
Here's a quick run down of some supermarket loyalty schemes and what they offer:
Tesco Clubcard: With clubcard you collect one point for every pound you spend in store or online.
If you buy your fuel from Tesco, you'll get one point for every £2 spent. Your points are then turned into vouchers. 100 points is worth £1 of vouchers.
You could spend those vouchers in store or online at Tesco, but they're more valuable if you use them in the Clubcard Boost scheme. With Boost, your vouchers are worth up to three times as much if you spend them with one of Clubcard's Reward Partners.
For example, £10 worth of Clubcard Vouchers could be exchanged for £30 to spend at Pizza Express – a great way to save money on a family meal out.
Sainburys Nectar card: Collect 1 points per £1  at Sainsbury's supermarkets and online. You also get 1 point for every litre of fuel at Sainsbury's petrol stations.
Nectar points can also be collected at other retailers including Argos and Debenhams and can be redeemed for meals out or money off at various shops as well as Sainburys.
Morrisons More Card: Earn 5 More Points for every £1 you spend in store and online and for every litre of fuel. Then get a £5 More voucher for every 5,000 points.
Co-op Membership: Register as a Cooperative member and earn 5% cashback when you buy Co-op branded food.
3. Buy in bulk
Most things work out cheaper the more the you buy. So a great way to save money when shopping for a family is to buy bigger packs of things you'll definitely get through.
Some good examples are toilet roll, tinned vegetables and beans, most cereals and washing powder.
If you have small children, nappies are cheaper in bigger packs, and the same is true of baby wipes.
4. Do A Family Brand Swap Challenge
Downshifting the brands you buy is an easy win to save money on your grocery spend. Try making it into a family challenge and taste test/try out some lower cost versions of the things you normally buy high priced brand versions of.
A lot of products are just as good, for lower prices, so switching to an own brand, or cheaper brand is not even really a compromise.
A quick example of something we've found we don't notice the difference with is Weetabix – Supermarket brands such as 'Wheat Biscuits' taste just as good and have pretty much the same ingredients anyway.
5. Save On Entertainment
If you're trying to save money as a family, think about considering less expensive options for entertainment.
For example, instead of a Sky TV package, why not try a Netflix or Amazon Prime Video subscription instead for a fraction of the price.
You might even find that that's enough and you don't need your TV licence for live TV at all either.
When you go for days out, try opting for free or cheaper activities, instead of expensive ones. Using your local play areas, libraries and parks are an easy place to start.
Opt for family movie nights at home instead of going to the cinema. If you are doing a more expensive trip, such as to a theme park or similar activity, try and find a discount or deal first – Groupon is a great place to try for reduced price activities.
There are loads of free museums that could be a good way to enjoy some family time – try this Free Museum guide to find the best free museums local to you.
Geocaching is another fun and free activity great for families – basically like going on a treasure hunt!
6. Secondhand shopping
Shopping secondhand is like a treasure hunt. It takes time to learn how to bargain shop, but you can become a money-saving thrift store shopper by planning ahead and being prepared.
Sara Noel
One way of saving money is to try and shop second hand where possible. For things such as kids clothes and toys, you can easily find stuff in great condition on Facebook or other selling sites.
We managed to get some lovely baby clothes from eBay in fab condition, that have lasted us through two children and they cost a fraction of what they would have cost new. We've also managed to pick up some great cheap toys from Facebook too.
Sometimes you get lucky and people even give things away for free that they don't need anymore. We've been lucky enough to be given a few baby items for free and been able to give them away afterwards too.
You can also try shopping in charity shops, or at local pre-loved/nearly new sale events.
7. Save Money On Energy
Trying to cut back or waste less energy is one way that the whole family can help in terms of money saving.
Some simple ways to save on your energy bills are to:
Make sure everyone tries to remember to turn off the lights when they leave a room
Put on extra layers before turning up the heating.
Washing up in a bowl instead of under a running tap.
8. Sell On Things You No Longer Need
A good way to recoup some money is to sell things you no longer need. When you have children you'll probably often have things they grow out of such as toys, clothes, books.
Get some money back towards the cost of new ones by listing them for sale on free sites such as Facebook marketplace, Gumtree or selling apps such as Shpock. If you need a wider market eBay is worth a try
, but keep an eye out for free or cheap listing deals.
9. Save Money On Family Holidays
"New research from travel booking site Expedia has revealed that families spend an average of £4,800 on family holidays each year, with the average vacation costing £2,417 and lasting nine days.
Standard.co.uk
Holidays can be so expensive for families, especially if you have to take them during term time. You can save money on holidays by:
Considering a staycation rather than going abroad
Try doing a house swap with another family who live somewhere else. This way you get to see a different place and experience local attractions that you don't usually go to.
It still gives you that 'break from the norm' without the expensive price tag.
Going away with more people – perhaps extended family or friends. Hiring a villa might be a much too expensive option for a small family, but if you go as a larger group the cost is shared and therefore reduced, plus you can then share the costs of meals too.
If you're looking to go abroad during school holiday times, and are flexible with your dates, the last two weeks of the school holidays are often a little less expensive than the beginning of the holidays.
You can also try getting cheaper fares by booking as much in advance as possible.
10. Use reusable items
Using reusable products instead of disposable not only saves money but can be more eco friendly too! Some good examples of everyday family use items that could be swapped for reusable are:
Kitchen roll: I don't know about you but in our family we have a LOT of spills and messes to mop up!
You can make your own cloth kitchen roll and reuse it over and over – or if you don't fancy sewing, there are plenty of options to buy reusable kitchen roll that will last ages so you can stop buying the paper version.
Nappies: Cloth nappies can be a huge money saver especially if you use them for more than one child. They come in really cute designs and are the same shape and style as disposables.
Much nicer to use than the cloth nappies of previous generations, these can usually be washed in the washing machine and have fully waterproof linings to prevent leaks.
Wipes: In addition to cloth nappies, or just instead of, cloth nappies are a great environmentally friendly and cost effective alternative to one time use wipes.
These can be stored in a wet box, and washed in the washing machine.
11. Take advantage of kids savings accounts
If you're wanting to save up for your kids, do a bit of research into kids savings accounts to make sure you're taking advantage of the best deals out there.
From tax free Junior ISA's to Child Trust Funds to Kids Regular Saver Accounts, there are lots of options out there to choose from.
Kids can earn up to 4.5% interest on savings, so it's worth shopping around to see what rates are available for the type of savings you want to make.
Do you have any other tips for saving money as a family? Share them in the comments!
Pin it!