Posts contain affiliate links, see disclosure for more details.
If you're looking for a fun, family holiday for a reasonable price, La Croix Du Vieux Pont – a campsite and holiday village in Berny-Riviera, France, is a great option. We've just come home from a week staying there with Canvas Holidays – our third visit, but second with Canvas, and really enjoyed it. La Croix is also a Eurocamp site. (You can read a review of Eurocamp here.)
Here is a La Croix Du Vieux Pont review from our holiday…
La Croix Du Vieux Pont is in Northern France, and takes around 2 and a half hours drive from arriving in Calais, after taking the ferry from Dover. We found this to be a reasonable journey length – even though we had a 3 hour drive to get to Dover, the girls were able to have a good run around on the ferry so they were pretty good about getting back in the car for the next leg.
Accommodation
We opted for one of Canvas Holiday's 2-storey wooden lodges. You also have the options of camping, or staying in a mobile home, which we have done before when we just had the one daughter. With 5 of us, we wanted a bit more space, so we splashed out and went for the lodge, which to be honest, was still a pretty affordable price.
It was fab – loads of room, plenty of space for cooking, eating and relaxing and the bedrooms were a reasonable size too – the upstairs room where our 2 eldest slept was massive! They've thought of things like having stair gates already fitted to the top and bottom of the stairs, which is really handy. There are even sun loungers and chairs in the garden, a table and benches for eating outside and a gas bbq set up in the garden as well. Kitchen utensils and cutlery etc are included, but you do need to take your own washing up liquid and toilet roll etc. You can pay extra to have sheets and bedding included, but we chose to take our own – they provide pillows and blankets.
The only negative point I can even think of to say about the lodge is that the bathroom shower was a bit dark if you used it at night.
Activities and facilities
Swimming
One of the best things about La Croix are the brilliant swimming pools. There is a heated children's pool with a retractable roof (which they open or close depending on the weather) complete with slides in the middle and a little fountain. Next to the children's pool is a Splash Zone, which has loads of different fountains and water sprays etc, which the kids loved messing about it. My daughters loved the pools so much I'm pretty sure my eldest would have never gotten out if she had the choice! For the big kids among us (Mr manypennies was pleased to have the kids for an excuse!) there is also a big tunnel flume and other slides.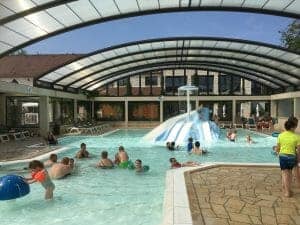 For the adults and older children, there is also a covered pool with jacuzzi section (not hot though – just the same temperature with bubbles bizarrely) and a lovely outside pool with bridges, water jets a lazy river type section and sunbeds all around. This pool is not heated as much as the others, so we spent less time in it – maybe it'd be warmer later on in the season! There is a bar next to the pool for drinks and ice cream.
As well as the swimming pools there is also a pretty man-made beach and 'sea/lake', which you can visit for swimming and sandcastle building.
Another thing which makes La Croix such a nice place to stay is the beautiful lake. You can sit in the café by the lake for a drink, or take out a pedalo or canoe. (The girls LOVED the pedalos!) If you want more for the children to do they have trampolines and a bouncy castle at the lakeside bar, and there are even go karts and mini golf.
Other activities
There are lots of playgrounds around the site with swings and slides etc, they're probably more suited to children a little older than ours, but they gave them a good go!
If the weather is not so good and you want some indoor activities they also have an onsite bowling alley, laser quest and a soft play area for children. We only visited the soft play, and whilst it was good and the children enjoyed it, we felt it was a little expensive at €3.50 per child.
Kids Club
Canvas run Kids Clubs for all ages, even teens. They have sessions for 0-5 year olds, which need to be attended with a parent, and the next group is for 4-7's, where you can leave them. We only took the little ones a couple of times, they had activities like balance bikes, toddler trampolines, teddy bears picnic etc. Chloe went off to the 4-7's group most days and loved it. They had circus skills workshops, mini Olympics, a chocolate party (a firm favourite!) and she even got to do some water walking in a giant blow up ball! This was all completely free, we were really impressed and the children's workers were lovely and fab with the kids.
Food
I can't do a review and not mention the food! The local supermarket is about half a mile away in Vic sur Aine, but you don't even have to leave the site if you don't want to, as it has its own small supermarket for groceries and the like. There is also a bakery, which does incredible croissants, pastries and French bread. Seriously, it is amazing I can still fit into my jeans, we visited that bakery a LOT.
If you don't fancy cooking there is also a takeaway where you can buy pizza, burgers hotdogs etc for pretty reasonable prices. They also sell ice-creams, Cornetto's were only €1 which is great, as you can imagine with 3 children in the sunshine clamouring for ice cream it could have gotten pretty expensive!
We were lucky enough that my brother in law was also on holiday (entirely co-incidentally at the same time and place!) and offered to babysit so we were able to go out and have dinner at the onsite restaurant, which was lovely. The food was yummy, the pricing was average for a restaurant meal, and they did amazing ice-creams for pudding.
To round up
There is so much to do that we didn't even need to leave the site, but if you did want a day out, then you could take one of the daily coach trips to Disneyland Paris, which is about an hour away.
For a family holiday, where you don't want to spend a fortune, but still have lots to do, I'd really recommend La Croix du View Pont. We felt like it was really good value for money, and it catered really well for both children and adults.
Looking for something similar but closer to home? Check out The Mum Diaries' review of camping and caravanning in the New Forest.