Posts contain affiliate links, see disclosure for more details.
As a mother of three children, I know how expensive it can be to provide food, clothes, and diapers for your newborn. That's not to mention the never-ending list of other required things such as baby furniture, books, car seats, strollers, and on and on.
Through my experience, I have paid way too much for things, but I have also found some awesome ways to get free baby stuff! If you are expecting a new addition to your family, learn from my experience and take advantage of some of these great free baby hacks I have learned.
My First Baby [Expensive Mistakes]
Learning from other people's mistakes is a great way to learn. A dear friend once told me that he had no idea what he was getting into as a young expecting father. He knew he needed to buy a crib and some baby clothes, but he didn't know how much and where exactly he should buy this stuff. He also heard that the diapers were expensive. Other than that, he was clueless.
Read what he did next…
"Because of my ignorance, I stopped at a store that we had driven by several times. "Babies 'R Us" screamed, "if you don't know what you're doing, shop here!"
Truth be told, Babies 'R Us should have changed their name to "shop here if you never want to go out to eat again or have any money and need three extra incomes just to buy your baby's furniture."
Now that I think about it, they probably wouldn't get much business if they told the truth."
My Baby Deserves Only The Best!
Of course, your baby deserves the best! Many people make the new mom mistake and buy everything new and name brand for their firstborn. Second-hand items are not an option – my baby deserved only the best!
Unfortunately, since baby stuff is so expensive, there is no way that a single income could support buying all new baby stuff for each kid. Even with my great frugal living and tight budget, there is no way I could make that work. When you live paycheck to paycheck, then "the best" is not really an option.
My children wore and used many hand-me-downs, sale items, and we go lots of things for free. With my 3rd kid, I don't even think of buying new as "the best"!
How To Get Free Baby Items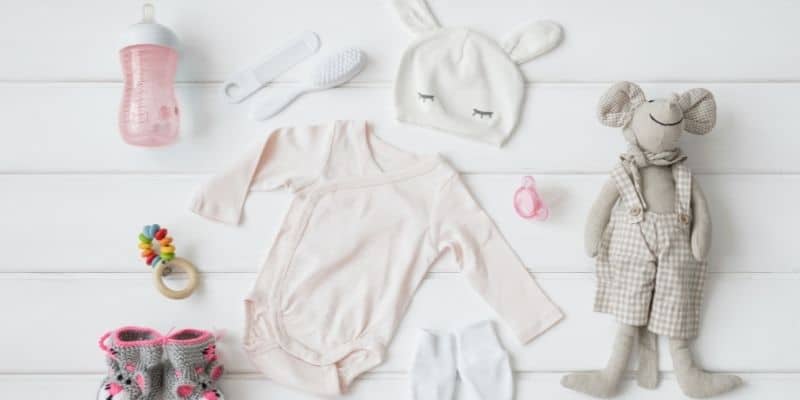 It has been a few years since my first was born, and I have a good handle on finding the best deals and even getting a ton of freebies! Otherwise, without further ado – here are my top tips!
Free Diapers
Diapers are one of the most expensive items you will continually need to purchase. Even if you decide to go with a cloth diaper service, it will still cost you a pretty penny. If you choose to use disposable diapers, these are the best ways to get free samples and save money on your purchases.
Cuties Diapers
Cuties is a diaper company that is trying to break into the scene. They want your business, so they are willing to send you a free sample of Cuties Complete Care baby diapers. Head over to the Cuties website to request your free samples.
Luvs Diapers
When you register for an account here, they will start sending you free samples and coupons for a bunch of products. Tons of companies will send you free samples in hopes you will start buying their product.
The Honest Co.
The Honest Company offers a free trial package that includes diapers and wipes. To sign up for their free trial, sign up at their website.
They charge $5.99 for shipping.
Noobie Box
The company Noobie Box provides a free pregnancy edition gift box for moms that is filled with samples. The box comes with baby ointment, Baume, pacifier, diapers, breastfeeding sets, drink mixes, and baby wipes! Each year you can request a new box depending on how quickly you are having babies! Get your Noobie Box by following their website link.
You do need to pay the shipping, which is $6.95, but it is well worth all the included freebies.
Discounted Diapers
Free diapers are a great start, but they will only last you so long. For the long-term strategy, you need to get into a rewards program to get discounted diapers. The list below offers rewards programs to provide your diapers at a steep discount and even free if you get enough points.
Huggies
Huggies has a solid rewards program for you to take advantage of. Each time you purchase diapers, you can scan the box, and the credits are automatically awarded to your account. When you reach a certain threshold, you can redeem the points for different products, including diapers!
Target
Did you know that Target brand (Up&Up) generic diapers are Huggies in disguise?! It's true. They are made by Huggies but marketed for Target. I figured this out by my second kid and started buying Target brand diapers. They are way cheaper than the Huggies name brand, and I didn't need to mess with a rewards program.
Pampers
Pampers also has a rewards program similar to Huggies. My wife liked the Pampers diapers the best with our first kid, and we often used this rewards program.
Free Products When You Create A Registry
Take full advantage of your baby shower! People love babies, and they like shopping for baby items. To ensure you don't get 100 packs of the same size diapers that you'll never get through, or a terrible sweater from Aunt Midge, make sure you get on a registry!
Tell people what you need and give them a list. If 'ole Aunt Midge still wants to get your baby that sweater, she can, but hopefully, she will get something else on the list also.
Amazon Baby Registry
That's right, Amazon has everything from A to Z, including a baby registry. If you sign up with Amazon, you will also get a sweet Welcome Box. The Welcome Box contains surprise items for both parents and the baby. Previous box recipients have received $35 worth of baby items and a parenting book. Click here to find the Amazon Baby Registry.
Target Baby Registry
I have a love-hate relationship with Target. I love Target, but I hate how much stuff I buy when I am in there. With that being said, they have a great baby registry. I signed up for the Target registry for each of our babies since I love Target so much.
Target hooks you up with a congratulations box that contains about $50 worth of free samples and coupons when you sign up.
Walmart Baby Registry
Walmart offers an awesome Baby Registry Welcome Box if you decide to sign up for all your baby shopping at this store. Here is an example of what has been included in the baby box before. (They change the box often so there is no guarantee that you will get these items in the box!)
Pampers Baby Wipes
Enfamil Baby Formula
Palmer's Cocoa Butter
Nanobebe Baby Pacifier
Babyganics Moisturizing Lotion
Dr. Brown Baby Bottle
Carter's Short Sleeve White Body Suit
Lansinoh Breast Milk Storage Bags
Aquaphor Healing Ointment
Desitin Diaper Rash Cream
Aveeno Moisture Lotion
Free Baby Clothes
Putting clothes on your baby can quickly get expensive because kids grow up so fast! Before they have time to ruin an outfit, they need a new bigger size. It seemed like every week I needed a bigger size for my baby.
3 Of My Favorite Words: "Hand-Me-Downs."
By far, my absolute favorite way to get free clothes is to get hand-me-downs. Most of us have friends or relatives who had kiddos before we did, so don't be afraid to reach out to them!
Most parents have bags of clothes their kids have outgrown, and if you're nice enough, they may even give them to you for free. We were fortunate to have close friends with older daughters, so we benefited from receiving all the old clothes their girls outgrew.
There is nothing wrong with dressing your kid in used clothes because, as I said, most of the time, the clothes still look brand new before they outgrow them!
Also, be sure to return the favor and keep all your kid's old clothes so you can hand them over to any new parents in your lives.
Custom Snappies
Want $50 dollars worth of baby clothes for free? No, I'm not kidding – head over to Custom Snappies and enter the promo code PENNY1. You will get a $50.00 discount – just like that!
You will still need to pay for shipping.
Little Wanderers
How about $60.00 worth of baby shoes for free? Similar to Custom Snappies, Little Wanderers will give you a $60 dollar credit if you use the promo code PENNY1.
Shipping will need to be paid by you.
Baby Leggings
Your baby needs leggings, seriously. Nothing says you're an awesome parent by putting stretchy pants on your kid. Feel free to use my parenting hack and claim it as your own. Forget the buttons and zippers – you need to pick up $50.00 worth of baby leggings with the promo code PENNY1.
Go get your free stuff over at the Baby Legging's website!
Just pay for shipping.
Craigslist
Did you know Craigslist has a "free" section? Just search "free baby clothes," and you may be surprised to see what comes up. Often, people have old baby clothes that they can't get anyone to buy. Instead of giving it away to Goodwill for others to make a profit, many people will give away their stuff to a good home.
Free Baby Food And Formula
If you don't know, now you know. Baby formula is right up there with diapers in regards to expense. If breastfeeding is difficult or not an option, baby formula can quickly take a big chunk of your budget.
Enfamil
Get a free 10-ounce sample of Enfamil's Enfagrow by signing up for free. Fill out your information, and your free sample will be in the mail along with dozens of other coupons and information for you and your new baby.
You can also join the Enfamil Family Beginnings program to get additional Enfamil baby formula coupons, baby formula samples, special offers, and other savings.
Similac Strong Moms Rewards
If you create a profile for the Similac Strong Moms Rewards program, they will send you nutrition guidance for you and your baby, a free Shutterfly photo book, and free formula samples!
Nestle Baby
Do you live in Canada? If so, register for free to Nestle Baby. When you do, they will send you a free welcome kit as well as $130.00 in coupons and samples. In addition to the free samples, you can access expert advice from pregnancy to toddlerhood and practical tools and videos for you and your baby.
Get Free Books For Your Baby
Every parent knows that reading to your child is extremely important for their mental development. As your child grows, there are various levels of books that you will need to read to them and books they will begin to read independently.
Below are several great places to get free books for you and your baby.
Freecycle
Freecycle.org is a networking site that connects people together. It's a nonprofit movement of people who are giving away items for free. It's all about reusing and keeping good stuff out of landfills.
Membership for Freecycle is, you guessed it, free!
Check out their website to find a neighborhood group near you.
Babies First Books
Babiesfirstbooks.com has a promotional offer where you can get up to $40 dollars worth of books for free. To get this sweet deal, head over to their website and use the promotional code "OFFERS" to get your free books.
Babsy Books
Babsy Books also offers a promotion to get five free books by entering the promo code "GET5FREEBOOKS" at checkout.
Dolly Parton's Imagination Library
Dolly Parton is famous for many different things, but did you know she also founded a program that sends free age-appropriate books every month to children up to five? It's true. You can sign up for the program for free if it is offered in your area.
Check the Imagination Library to see if you are in one of the serviced areas.
Bookyards
If you are a fan of digital books, Bookyards is a free library to the world that allows you to browse and read through their 23,511 books! All you need to do is sign up through this link to start browsing the books from the publishing community.
I Can Read!
My children learned to read with the I Can Read! Series and I highly endorse them. Right now, if you sign up to browse their books, they will send you two free books for only $1 dollar!
Free Kids Books
The name says it all. Free Kids Books has many free books for download that you can read to your little ones to help them learn to love reading! Check out the Free Kids Books website for more information.
Wrapping It All Up
As an experienced parent, I want to remind you that you don't need to buy all new things for your baby. Learn from other people's mistakes of buying everything new for their firstborn, and don't throw all your money away! Using hand-me-downs or buying gently used items is perfectly acceptable.
No one will know or care your child is wearing a previously worn onesie – believe me. And if they do – they have their own problems to deal with.
Set you and your baby up for success from the beginning by taking advantage of these freebies and spend your money wisely – you and your baby deserve it! And you'll be glad when you can use some of that saved money to invest your hard-earned money for the future. Setting you and your child up for financial success is the best baby gift you can give them. 
About the author
Robyn is a millennial mom of 3 on a budget. Her blog A Dime Saved is full of great ideas on how to raise a family on a budget and get your finances in order. 
Also read: